Gay Acres Farm, Gone with the Gavel
On June 8, 2002 Robert Critchfield's old farm, Gay Acres, was split up into 16 land parcels and sold at auction to the highest bidder. As of January 2003, most of the deeds have been processed and the new owners are contemplating the future building projects for their land. Meanwhile, Wayne County (Ohio) is left mourning the loss of another scenic and historical piece of land.
Gay Acres Farm was often described as a couple-hundred acres of old Kentucky transplanted to northern Ohio. There were four large barns and approximately four miles of white plank fence made out of white oak and fence-posts of locust, set three and half feet into the ground and eight feet apart that bounded the fertile pastures.
Robert Critchfield lived on the property with his wife Margaret in a colonial style farm house part of which dated back to 1826, but according to the County records the house was built in 1951. About that time he dug-out the three and half acre lake which remains on the property today. He retained and designed the farm to be a specialized breeding and rearing grounds for Standardbred horses, trotters being his favorite of the breed.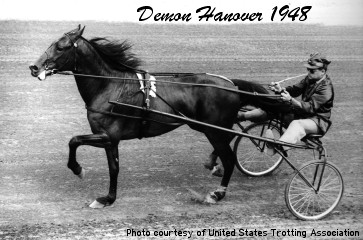 In 1948 a three year old trotter named Demon Hanover won the pinnacle trotting event, the Hambletonian, at the kite shaped mile track, Goodtime Park in Goshen, New York. Demon Hanover was the odds on favorite in both heats despite being driven by his amateur status owner Harrison Hoyt, a hat manufacturer from Bethel, Connecticut. Hoyt managed to get the lead in both heats and did not disappoint his betting supporters by winning both heats, the fastest mile in 2:02. He took home his share of the $59,941 purse and the distinction of being the only amateur driver ever to win the coveted event, a record he held until 1997.
"The Demon" as he became affectionately known, went on to win further fame and fortune and eventually ended his racing career with a time trial mark at 5 years old of 1:59.4m and earnings of $187,000. At the time, this was the largest amount ever won by a trotting stallion.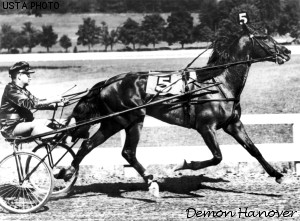 Robert Critchfield and his brother Henry were both attorneys and trotting horse enthusiasts, a love passed on to them through their Critchfield ancestors. Family legend stated that the addiction with trotters all started with Nathaniel Critchfield, one of Ohio's first settlers and who served with George Washington at Valley Forge. Robert and his brother Henry shocked the world when they dug deep in their pockets and produced $85,000 to acquire Demon Hanover from Harrison Hoyt. It was widely known that Hoyt had previously turned down an offer of $75,000 before his Hambletonian victory from Lawrence Sheppard owner of the famous Hanover Shoe Farms in Pennsylvania; but he accepted the offer from the Critchfields a couple of years later. This transaction turned out to be one of the best horse investments ever made.
The brothers brought "The Demon" home to Gay Acres Farm for stud duty. Despite losing a major portion of the stallion's small first crop in 1953 through misfortune at the farm, he quickly became a leading trotting sire in the state of Ohio and the nation. In only his second crop of horses he produced a standout son, Demon Rum. Who, as a two-year old racing in 1958 for the Jack Harrison and George Shields stable, was a national season's record holder. He won recognition not only for his speed at the trot but also as an unbelievably handsome horse and one of the best gaited trotters ever to appear. It was said that Demon Rum, more than any other factor, was what turned the eyes of the nation's trotting breeders toward Gay Acres Farm and the stallion Demon Hanover. All this attention culminated in a world record syndication offer of $500,000 being made to the Critchfield brothers late in 1958 for the stallion, which they accepted. The horse was shipped to the renowned Walnut Hall Farm in Kentucky where he stood for only one further season, prematurely dying during recuperation after surgery for removal of kidney stones in the summer of 1959. The loss to the Standardbred breed by his early death can never be measured.
From 149 foals who reached racing age, he was the sire of 8 going in 2:00 and 43 capable of going in 2:05 for a mile. At the time, these were amazing production numbers for a stallion.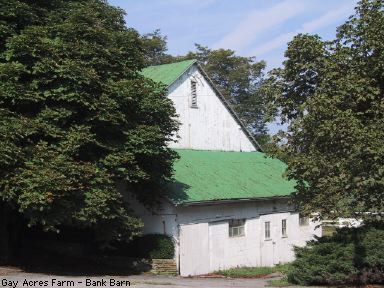 The sale of Demon Hanover in 1958 left Gay Acres Farm without a trotting stallion but Robert Critchfield wheeled and dealed himself into acquiring another fine horse: Demon Rum, the standout son of Demon Hanover. Demon Rum's race career was superb with just two and half years of active competition he compiled a record of 30 Wins, 8 Seconds, and 9 Thirds from 67 starts. Demon Rum's owners, Jack Harrison and George Shields, capitalizing on the horses current state of desirability, publicly offered the horse for syndication at Arden Downs, Pennsylvania in 1958. Ownership of the horse was split into shares totaling $200,000 which at the time was a world record price for a stallion untried at stud. It was never publicly known exactly how many shares of Demon Rum Robert and/or Henry Critchfield bought, but it must have been a significant amount for Robert to be named the stallions syndicate manager and Gay Acres Farm the place the horse was to stand stud duty.
Demon Rum seemed a "natural" to take over where his father, Demon Hanover, had left off; but history showed us that Demon Rum did not have the ability to pass on trotting speed to his progeny. In fact almost half of his get would end up pacing rather than trotting and they were known by area trainers to be horses that were high strung and ill-tempered, although quite beautiful in appearance. His stud career was as good as over by 1967 and his last crop came in 1972 with only two registered foals for the year.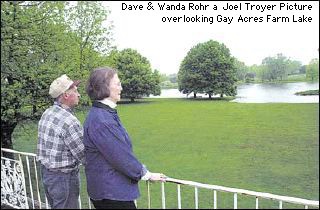 One of the last trotting stallions to stand at Gay Acres Farm was the horse Big John, 4,1:58.3m, by Florican. He was another syndication stallion of Robert Critchfields' making. He came to the farm in 1970 to replace the unsuccessful stallion, Demon Rum, and remained there until the early 1980's. Big John ended his stallion career in Canada with his last crop settling in 1986. He proved to be a competent sire of trotting progeny: 154 trotters and 24 pacers.
After the death of Robert Critchfield in 1981, the farm was sold to Dave and Wanda Rohr in 1984. The Rohr's farmed about 35 acres of the land and leased barns and pastures to local horsemen and organizations during their 18 years of ownership. They decided to sell the property last year, after purchasing a large tract of land adjacent to their main farm in the vicinity of U.S. Route 250 and Sylvan Road. The Rohr's felt that they could no longer provide the time and maintenance Gay Acres Farm required and decided to split the property into parcels and auction them off last June. The loss of this historic horse farm to Wayne County and Ohio can never be measured, but it's legacy lives on through the descendants of horses produced by the farm's legendary stallions.
---
Author: Susan Zimmerman
See the Reference List
Last Updated: March 22, 2003; 9:30 am EST