Swing Anna Miss a home run horse
Mike Catrone stepped up to the plate and hit the proverbial home run when he selected and purchased Swing Anna Miss out of the 2000 Ohio Select Jug Sale held at Scioto Downs for $5,500. The yearling filly, by Striking Sahbra out of Spry Miss, went on to become the 2 year old filly trotting Ohio Sires Stakes Champion. When asked what he saw in the filly that other owners and trainers obviously overlooked he said,
"A bargain! There was a filly by Striking Sahbra standing in the ring selling cheap so I bought her."
What a bargain that filly turned out to be as she ended her freshman campaign with a trotting record of 2:00.1h with total earnings for the year of $104,539.
(Pictured: Swing Anna Miss warming up for racing)
Mike and his brothers: John, Tony, Don, and Nick have operated a small racing stable at the Wayne County Fairgrounds in Wooster, Ohio, for the last 20 to 25 years. Soon after the brothers broke the young filly to the jogcart, Don said they knew the filly had talent as she "wanted to go as soon as she hit the track". Although John Catrone is listed as the trainer for all their horses, it really is a family operation with everybody pitching in and doing whatever work needs to be done. John and Mike do most of the everyday jogging and training of the horses, but every now and again Don, at 80 years old, will jog some of the quieter horses, even though he says his main job is grooming. Trainer, John, said that Swing Anna Miss showed a strong desire for speed early in the year, trained easily, and rarely ever broke when training down to race last year. Personality-wise, she is a quiet horse and easy to work around in the barn. But when on the track, she grabs on the bit and wants to go, which is one of the reason's she wore pop-out earplugs last year to race. John is hoping that this year, with some racing maturity under her belt, he'll be able to leave the earplugs in the tack trunk. She grew a little over the winter, but is basically the same filly as last year, and they're hoping she can repeat her winning ways this coming stakes year.
A little known fact is that Swing Anna Miss made her first endeavor in racing at the Western Reserve Matinee Club's 2001 Spring Matinee. She competed in a Time-Bar Class of 2:20 where she finished second by nose with local horseman John Wengerd handling the driving duties that day. From there she went on to compete in a couple of Baby races offered in the Spring by Northfield Park and was more than ready to race when she competed in her first stakes race. Overall, she had 13 starts for stakes money with 9 wins and 4 second place finishes, dominating the Ohio two year old trotting filly ranks. She now holds the track record for two year old trotting fillies at Northfield Park with the 2:00.1 effort on 9/1/2001 with Walter Case, Jr. in the bike, and at her hometown Wayne County Fair she broke the 2FT track record held by Oopsie for ten years of 2:04.1 with a 2:03.4 stomping with driver Kurt Sugg in the sulky. But John said his favorite two racing efforts made by the filly last year were the Night of Champions victory, and of course, winning the $100,000 Ohio Sires Stakes Championship.
As the sophmore trotting season is about to begin in a couple of months Swing Anna Miss is in the barn jogging and training for her upcoming three year old campaign. Trainer John Catrone said he hopes to have her ready to Qualify in early April at Northfield Park and ready to compete in the first Ohio Sires Stakes race for three year old filly trotters at Lebonan Raceway in May. John and fellow owners Mike and Lucy Catrone have the filly staked in 10 Home Talent Fair Stakes, 2 Super Stakes: Norwalk and Summit County, all legs of the Ohio Sires Stakes, the Ohio State Fair, and the Ohio Breeders Championship Stakes at the Delaware County Fair this year. John made sure she was eligible this year to all the races necessary for a shot at Ohio's Triple Crown, as last year she missed out on that opportunity due to ineligibilities.
The Catrone brothers used to race mostly raceway horses and would breed and raise a few colts to race, but within the last ten years they have sold all their broodmares and raceway horses and have concentrated on purchasing, training, and racing two and three year old stakes horses. When asked why the change, they cited advancing age (two of the brothers are octagenarians) and that they didn't want to race in the winter anymore!
When asked what their plans were for Swing Anna Miss after this year; they said she would be for sale at the end of racing season. In fact, if you want to buy her right now you could, if you have $100,000 to offer.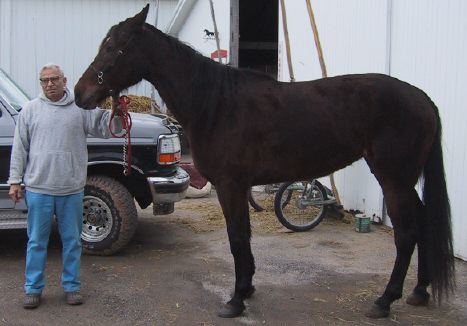 Besides Swing Anna Miss in the barn the Catrone brothers have another crop of two year olds they are trying to get to the races this year which include both a colt and filly by Striking Sahbra, an Overcomer colt, and a couple of pacers by Nobleland Sam. So, be sure to come to the Western Reserve Matinee Club's Spring Matinee to check out what the Catrone brothers might be winning with this summer.
(Pictured: Trainer John Catrone with Swing Anna Miss)
---
Last Updated: March 4, 2002; 5:15 pm EDT